Simplify Your Life Book
$15.00 $13.00
It really is possible to simplify your life with the right systems in place. With fast-paced, step-by-step instructions, Simplify Your Life walks you through refreshing new ways to manage your home, your time, your paperwork, and special seasons of your life including holidays, parenting, and transitions. For related products CLICK HERE
Simplify Your Time
$15.00 $13.00
Simplify Your Time is your personal 30 Day Time Makeover to gain control of your schedule and learn time-saving habits and strategies to create a lifestyle that allows you to get more done in less time. Featured in Office Depot Business section and purchased by Apple UK for their regional managers. Great for men & women.
Simplify Your Space
$15.00 $13.00
Simplify Your Space walks you room-by-room in your home to declutter and simplify in easy-to-follow sequences with diagrams, sidebars, and a 10 Question Checklist. The brilliant CALM organizing strategies help you maintain order and calm including how to prepare for a move. No more piles, just organized space!
Write Your Book! 
From the First Word to the First Sale!
Learn the entire process of writing a book "From First Word to the First Sale!" Successfully published author of over 100,000 copies sold, Marcia Ramsland, will teach you the same material she has taught in Writing Conferences across the country.
Bible Studies
to Jumpstart Your Life ($15)
Learn the Bible Study principles to change your life from the inside out. They will anchor your thoughts and actions as to why you are getting organized and how important it is to live your life well. Includes "The Proverbs 31 Woman" and "The Diligent and the Sluggish" Bible studies.
All Planning Products

People are using a blend of digital phone scheduling and paper planner products. This will help you choose the right system for yourself if you are going to use a paper planner along with your digital calendar to keep track of daily details. These are the products Marcia recommends in her Coaching course "Time Management Just for Women."
All Container Products
Choose stylish organizing containers for drawers, shelves, and cabinets to once you have decluttered each unit. They will help you STAY organized!  These products were especially chosen by Professional Organizer, Courtney Wilson, and Marcia Ramsland for their course  that they teach clients to choose the best containers in "Project Organizing with Containers."
All Paper Organizing Products
The right filing products will clear mail, daily papers, piles, and filing drawers quickly with all of these tools. Taking care of paperwork with these products will actually turn out to be easy and give you a sense of control. No more worrying at night about what's not done. Products are recommended by Marcia Ramsland in her course "Paper Organizing Made Easy."
Simplify Your Holiday Season
$15.00 (Reg. $16.95)
"Simplify Your Holiday Season" Turn seasonal stress into holiday success with this annual planning book! With an easy to follow system, step by step 8-Week, 4-Week, and 10 Day Plan, new celebration ideas, 50 Gift Giving Ideas, you'll discover how to cover all your bases for Thanksgiving, Christmas, and New Year's with ease!
Simply December Devotions
$5.95
"Simply December Devotions" Prepare your heart and home with for Christmas December 1-25 with this purse size devotional page a day from the Christmas Story verse in sequence, an inspiring application for your day, a Holiday Tip a Day, and jot down personal reminders on the "Page a Day" Chart. For details CLICK HERE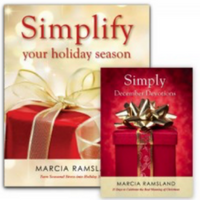 Both Holiday Books
$18.00 (Reg. ($23.95)
"Simplify Your Holiday Season" planning book and "Simply December Devotions" purse size devotional. Now you can get BOTH Holiday books as a set!
Pull these off your bookshelf annually to help you sail smoothly through the busiest time of the year! Good for Family Dinner reading too!