Get organized and stay that way with time-saving strategies
with Organizing Coach Marcia Ramsland directly, or her 12 Online Classes
to streamline your home, your time, & paperwork so you can relax!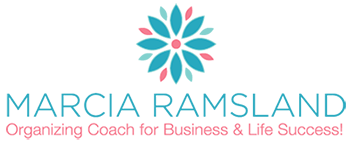 Get organized and stay that way with time-saving strategies
for your personal and professional life with Marcia Ramsland's
Coaching and Online Courses so you can relax!
Simply December Devotions
A Free Daily Email December 1-25
These inspirational December 1-25 emails  will arrive at 7:00 am each day to prepare your heart for Christmas. You'll take a parallel journey between the first Christmas and your holiday activities. This new look at the Christmas story will give you a spiritual boost above the busyness of the holiday season. Sign up today!
Get Your Holiday Book Set Today!
Use These Planning Books Year after Year
Join hundreds of women who pull their Simplify Your Holiday Season books off the shelf every year and hit the ground running with the Gift Lists, Holiday Calendars, and Notes from prior years ready to make this year easier. You can start saving your completed Gift List, notes, menus, and decoration ideas in the book charts and the handy document pocket sand start each year prepared.

"The 2022 Holiday Planning Hub"
8-Week Calendar, Master Gift List, & MORE!
The 2022 Holiday Calendars and Planning Hub include November-December weekly tasks that will easily guide you through the holiday season to be ready early. The 8-Week Calendars and Master Gift List will help you stay on track and be relaxed and ready early!
You can live  an Organized Lifestyle that's easy, simple, & productive.
Take a Course or Sign Up for Coaching.  We can help you!
Upcoming Classes for 2022
Live an Organized Lifestyle. It's Easy, Simple, & Productive
→ Clean Your Desk, Clear Your Mind
DIY Paper & Workspace Organizing HERE
→ Closet Organizing Like a Pro HERE
Thursday, October 22 & 29 * 11:00 PT/1:00 CT

→ Simplify Your Holiday Season HERE
     Tuesday, November 8- December 13* 11:00 PT & 5:00 PT 
"Trip Packing Made Easy"
CHECKLIST!
Packing your suitcase for a trip shouldn't be too hard, but making the decisions of what to put in your suitcase often is. I know! I used to stay up late packing, rush to make a flight, and buckle up my seatbelt wondering what I forgot. Not anymore! Make your packing a breeze this summer when you use my "Trip Packing Made Easy Checklist." →
Read Our Most Recent Blogs. . . 
(Click on a title below or ALL BLOGS HERE)