The Simplify Your Life Series has sold over 100,000 copies — Order Yours Now!
Is it really possible to simplify your life? The answer is a resounding "yes!" IF you have the right tips and systems in place. With fast-paced, step-by-step instructions, Simplify Your Life walks you through refreshing new ways to manage your daily schedule, your life at home and at work, and special seasons of your life such as the holidays, parenting, and life transitions.
Simplify Your Life Book
$15.00 $13.00
Simplify Your Time is your personal 30 Day Time Makeover to gain control of your schedule and learn time-saving habits and strategies to create a lifestyle that allows you to get more done in less time. Featured in Office Depot Business section and purchased by Apple UK for their regional managers. Great for men & women.
Simplify Your Time
$15.00 $13.00
Simplify Your Space walks you room-by-room in your home to declutter and simplify in easy-to-follow sequences with diagrams, sidebars, and a 10 Question Checklist. The brilliant CALM organizing strategies help you maintain order and calm including how to prepare for a move. No more piles, just organized space!
Simplify Your Space
$15.00 $13.00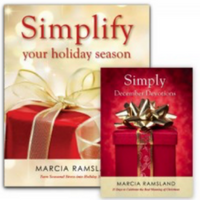 Did you know personal organization is the foundation for all increased productivity and success? A streamlined workspace plus a top-notch online and offline presence will dramatically boost your credibility and efficiency with Business Productivity Coach Marcia Ramsland's practical and innovative approach.
Organize Your Workspace
$7.95
Prepare your heart & home to be ready & calm. Planning Pocket, Master Gift List, Timelines, & Celebration ideas. Pull these off your bookshelf annually to make  "Simplify Your Holiday Season" planning book and Simply December Devotions" purse size devotional will help you sail smoothly through the busiest time of the year!
Simplify Your Holiday Season & Simply December Devotions
$23.95 $20.00
"Ages & Stages of Getting Children Organized" is the booklet for organizing your Children this fall! Learn how to organize your children and family and put these charts and tips into practice today.
Booklet: Ages and Stages
$5.00
1-1 Coaching Sessions with Marcia Ramsland will quickly boost your progress with motivation, momentum, and mastery! The Coaching Sessions with customize action items, homework training, and accountability ensure you will reach your goals.
1-1 Coaching
$175
Along with your copy of Simplify Your Life book, get the companion Workbook for any Simplify Your Life class or webinar to apply what you are learning with step-by-step application of every chapter. You'll get organized for life!
Simplify Your Life Workbook
$12.00
Proverbs 31 is a masterpiece of time management principles and the longest passage in the Bible on women. Learn how the Proverbs 31 woman got so much done and be inspired yourself to be God's woman in action every day. (60 minutes)
Proverbs 31 CD
$10.00