The "Simplify Your Holiday Season" Class will jumpstart your planning every Monday in November and December to get you ready ahead of time. The weekly Coaching, weekly Action Steps, accountability, and community fun will put you ahead of the game this holiday season. With Marcia's Live Coaching and community of like-minded women together each week, you'll be organized and enjoy the holiday season for perhaps the first time ever!
You can be relaxed and enjoy the season every Monday night in November and December following Marcia's famous blueprint for a smooth, calm, and meaningful season. No stress, just planning, action, and fun together!
Monday Night "Simplify Your Holiday Season"
November, December, and a January Followup! 
Classes are at 5:00 PT / 6:00 MT / 7:00 pm CT / 8:00 ET
to keep you on track and prepared early.
Live Weekly Group Coaching Classes, Private Facebook Group, Accountability, Fun 
AND a 1-on-1 Bonus Coaching Session with Marcia!

Live on your computer. (Each session is recorded, too!)
Week 1 ‒Monday, November 4 – Get Started Right!
Your Customized Holiday Calendar Plan

Master Gift List Tips & Tricks

Gift Wrapping Center Setup



""The first thing I'm going to simplify for my holidays is get a calendar and write events AND plan gift gifting." — Miriam W." 
Week 2 ‒ Monday, November 11 – Gift Shopping Strategies
Gift Shopping & Wrapping Strategy for This Year

Clean House for a Cozy Season at Home


Thanksgiving Prep – Our House or Yours?
"I decided to "enjoy" the holidays instead of just surviving." —Linda S.
Week 3 ‒ Monday, November 18 – Thanksgiving & the Four Day Weekend
A Meaningful Thanksgiving

Black Friday Strategies for a Jumpstart


Holiday Card Greetings this Year – Yes or No?
"The first thing I'm going to simplify for my holidays is keep my budget with less gifts."— Sammye H.
Week 4 ‒Monday, November 25 – Make the Most of Your Limited Time!
Decorations Up, Donate the Extras

Calendar Savvy to Enjoy the Season


Event Planning Made Easy
"The first thing I'm going to simplify for my holidays is culling out decorations and donating them." — Betsy M.
Week 5  ‒ Monday, December 2 – Mail Greetings & Gifts
Mail & Email Christmas Greetings

Time to Bake and Menu Plan


Year End Charitable Donations
"I learned to keep my Christmas cards simple and start early." — Gail H.
Week 6  ‒ Monday, December 9 – Helping Others
Host Your Friend or Have an Event

Finish Up Loose Ends


Enjoy Live Holiday Events & Hallmark Movies
"I especially appreciated the idea to combine visits with family and friends with events." —Pam F.
Have the Most Peaceful,
Stress-free Holiday Season Ever!
No Class the Week of Christmas & New Year

Class Week 7 – January 6 – Wrap Up the Holiday Successfully
Celebrate & Share the Good Things that Happened

Make Notes of How to Improve for Next Year


Finalize Summary Lists
Every Monday night in November and December is sure to get you organized ahead of time and ready for all the upcoming celebrations.

It begins Monday, November 4,  and meets every Monday for teaching, sharing, accountability, and easy ideas to stay on track.
Classes are at 5:00 PT/6:00 MT/7:00 pm CT/8:00 ET to keep you on track and prepared early.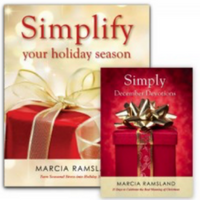 By the end of our 7 Weeks, you will have . . .

Clarity on what to do every week in November & December (with accountability to do it, too!)

Gift Giving Ideas and shopping solutions to find the perfect Gift for the hard to please

Time-Saving Tips to simplify your Decorating and Christmas Card greetings

Peace of mind knowing your home is in order and company can stop over anytime

Relief knowing everything is organized and ready early!
I'm here to help you turn seasonal stress into Holiday success! No more late nights worrying about how to get everything done. Join us for insights, support and calm control in our Monday evening class. I'll see you there!
Warmly,
Marcia Ramsland, Your Holiday Coach
REGISTER HERE for this year's Holiday Class*   $97.00
OR Better Yet …
REGISTER HERE  for A LIFETIME HOLIDAY MEMBERSHIP  which Includes this year PLUS ALL future years!  $147.00
"Coaching Busy People to Make Every Day Easier!"