Get organized and stay that way with time-saving strategies
with Organizing Coach Marcia Ramsland directly, or her 12 Online Classes
to streamline your home, your time, & paperwork so you can relax!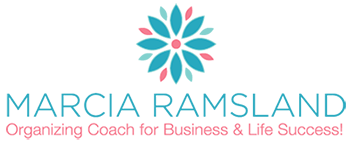 Get organized and stay that way with time-saving strategies
for your personal and professional life with Marcia Ramsland's
Coaching and Online Courses so you can relax!
Catch up on our recent Blogs

* The most recent Blog is listed first.
Easter Webinar!
Visit the traditional sites associated with the "Last Supper"
Visit the places of Jesus' trial before Annas, Caiaphas, and Pilate
Visit the Church of the Holy Sepulcher
The cherry on top is a visit to Gordon's Calvary and the Garden Tomb
Plus a guided tour webinar live, commentary, and much more!
Easter in the Holy Land!
* You're invited to a Free Complimentary Webinar to tour the Israel locations with commentary & insights from the biblical and historical expert, Dr. Carl Rasmussen.

* This presentation will walk you through the steps and locations of the trials, crucifixion and resurrection of Jesus. Register today & mark your calendar!

* You'll feel like you've been to Israel and have a fuller understanding of Easter in its real setting!

Register for Upcoming Classes
→ LIVE Closet Organizing Workshop
Spring Makeover * To Be Announced
→ "100 Days of Summer Planning Workshop"
Wednesday May 24 * 5:00 PT/7:00 CT
Live an Organized Lifestyle. It's Easy, Simple, & Productive!
Signup for Coaching or Classes.  We can help you!