Get organized and stay that way with time-saving strategies
with Organizing Coach Marcia Ramsland directly, or her 12 Online Classes
to streamline your home, your time, & paperwork so you can relax!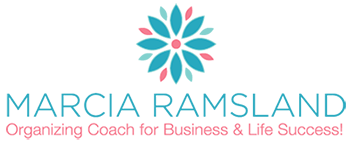 Get organized and stay that way with time-saving strategies
for your personal and professional life with Marcia Ramsland's
Coaching and Online Courses so you can relax!
The 2023 Master Gift List
"The Master Gift List" in the Holiday Hub turns seasonal stress into holiday success with easy to use planning tools that work! You'll be ready early with: the week by week schedule, a Gift List on your phone, a Holiday Notebook, Checklists to stay on track & more! It's so easy to follow my Holiday Plan. Only $7.
"The Holiday Season" Book Set
Join hundreds of women who pull their Simplify Your Holiday Season books off the shelf and hit the ground running. Gift Lists, Holiday Calendars, & notes from prior years will make this year easier.
14 Experts give their 10 Best Tips to Celebrate without Gaining Weight, take Perfect Photos, 50 Gift Ideas, and Style your Food like a Pro. Being ready for the holidays is as much a matter of organization as it is a matter of heart. 
Catch up on our recent Blogs

* The most recent Blog is listed first.
Live an Organized Lifestyle. It's Easy, Simple, & Productive!
Signup for Coaching or Classes.  We can help you!