Get organized and stay that way with time-saving strategies
with Organizing Coach Marcia Ramsland directly, or her 12 Online Classes
to streamline your home, your time, & paperwork so you can relax!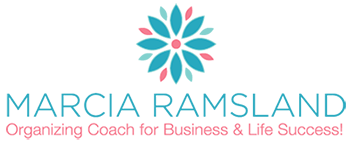 Get organized and stay that way with time-saving strategies
for your personal and professional life with Marcia Ramsland's
Coaching and Online Courses so you can relax!
 "Along the Way" Women's Conference
Marcia Ramsland, Main Speaker
Saturday, October 7 * 9:00-3:00
Cleveland, Tennessee
Limited to 225 women so sign up & reserve your spot with friends right now!—>
* Marcia will be speaking for 4 Sessions. No Charge except for $13 for Lunch paid at the Door.
Come for the day and get a picture with Marcia and  your "Simplify Your Life" books signed!

Register by emailing: [email protected]
or Texting the Registrar at (423) 599-3331
"Declutter & Let it Go" Workshop
In "Declutter & Let it Go" you will find the motivation & steps to tackle 3 key areas with "Before & After" pictures to enter the Workshop Contest: (1) A Room of your choice  (2) A Clothes Closet (3) A Garage or a Storage area. You'll get training in the Workshop on these 3 areas and be motivated to get through them before the weather changes.  You'll have the relief that it's done for the winter.
We make it fun and get it DONE! TWO Workshop sessions Thursday Sept. 14 & 28 when the Contest ends at 5:00 pm.
Free "168 Hour Time Tracker"
Track your time using Marcia's proprietary "168 Hour Time Tracker!" Better Homes & Gardens featured Marcia as a Time Coach for their writer and that generated 1,500 downloads!
Print your copy and write down the main thing you do each hour to show you when you focus best and how to balance your week. Soon you'll know exactly where your time goes and how to save it. After all, your best life is all about time."
Catch up on our recent Blogs

* The most recent Blog is listed first.
Live an Organized Lifestyle. It's Easy, Simple, & Productive!
Signup for Coaching or Classes.  We can help you!